In this post we are exploring SHKL journey with Coohom specifically how the interior design functions and features have positively impacted their business. Firstly an introduction to SHKL, followed by an overview of the Gap that SHKL had trouble solving. Lastly, a dive into how the Coohom tool helped SHKL overcome the gaps with actual "numbers" highlighting the numerical impact it has caused. 
A Brief Introduction To SHKL
Foshan Jialan Sanitary Ware Co (SHKL) launched into the Chinese market in May 2004 and has built a reputation as a
sanity ware
enterprise specializing in integrated design, research & development and production of sanitary ware products across China.
SHKL provides their clients with a one-stop solution for sanitary ware such as bathtubs, toilets, sinks, and showers integrated to any physical space while ensuring cohesive design and quality. Strict quality control standards as well as a strong, experienced team of R&D with over 17 years' experience cement their top position in the market. Over the years, SHKL has build a reputation as the number 1 brand in China for their specialty solid-wood bathroom cabinets, boasting over 200+ stores in China; as well as further expansions overseas.
The Gap
Outdated product catalog significantly limited reach to potential new clients in the digital age, including gaps in efficiency due to varying software processes that were significantly time-consuming. 
Use of traditional shopping guides located in stores were
outdated,
relying on simple product images to showcase products. As a result, SHKL found it challenging to acquire and retain new customers. In addition, 
SHKL relied on two separate software's to manage design and operations which resulted in high maintenance cost, low audit efficiency and long delivery lead times. 
These major factors resulted in lower customer conversion and serious 
inefficiency
 of resource allocation in the form of time and money. How to not only solve these issue but do so in a short time frame to avoid further losses. 
How The Gap Was Filled 
Coohom all-in-one Cloud Based Design and Visualization tool that has provided a tremendous advantage to manage complex processes for companies such as SHKL, assisting with product management, order, customer and all-around digitalized management. Here's how:
AI Design generates construction, custom furniture and decoration design in a matter of seconds. Switching from simple product images to 3D Catalogues saw a significant increase in improving customer's visual experience which in turn lead to higher sales conversion.
720 Panorama allows for customers to experience it themselves, SHKL relies on this function for the added advantage of prospective customers to take have an immersive experience in a completed design project before making a purchase decision.
The result of the Product Integration directly reduced delivery times by 50% through Coohom's integration processes.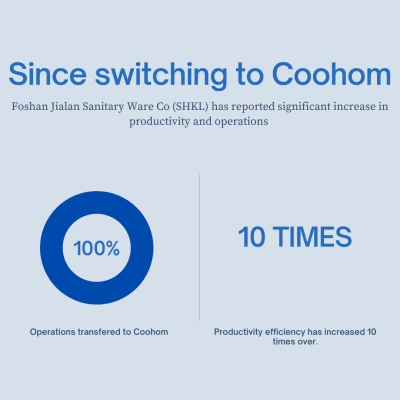 SHKL has since reported significant and optimistic results from switching to Coohom, with operation processes fully transferred to the Coohom platform with a whopping 10 times increase in productivity efficiency.
Want to learn more about what Smart Decor can do for you? Check out our package plans here.
Images above are sourced from SHKL's official website
You are reading this article on Smart Decor Pte Ltd's website. Smart Decor Pte Ltd is the exclusive partner and distributor of Coohom in Southeast Asia. For more info about how Coohom can help your business, click on the following link: