In this post, we will be exploring Industrial Design and the various elements associated with the sought-after trend. Follow our quick guide to create your very own unique customised design and how Coohom can ease the process in record-time!
Want to design an industrial look but you are not sure where to start? Re-creating your own fully customised Industrial Design is super easy with Coohom. We'll tell you why at the end of this article! Follow our quick design guide below to create your very own design. Experience Coohom yourself by signing up for our 7-day free trial here.
A Brief Introduction To Industrial Design
The industrial design is inspired by the lofty looks of warehouses, factories and other industrial structures from the late 19th and early 20th centuries out of England and the US. In this article, we will be taking a dive into the various characteristics that make this trend so sought-after; plus, some tips and tricks to make it your own.
Characteristics of Industrial Design
Industrial style interior design comprises of striped back architectural details which include bare bricks, metals, wood and recycled materials. It is often identified by various architectural elements within the space. This is done by embracing the undone elements and incorporating pieces that offer both function and style.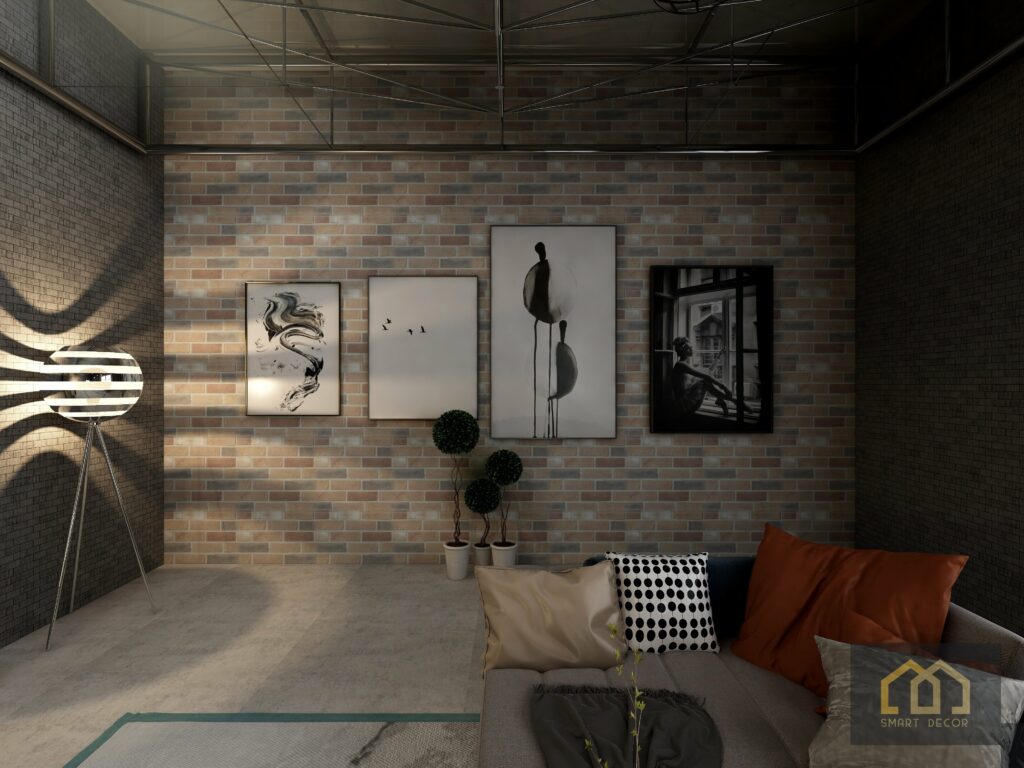 Exposed Industrial Elements
Staying true to the architectural elements of this trend, incorporate bare beams, visible ductwork, or pipes to add an exposed visual dimension.
First, the key to achieving this look is to embrace the undone elements – raw, almost unfinished, making them the focal point and providing a relaxed living environment. Therefore, we've opted for two different types of bare bricks to bring more dimension into the space, while carefully displaying selected decorative art pieces in a neutral colour.
Colour Scheme: Keep it neutral, make use of browns, whites, black and beiges.
In addition, select decorative pieces that suit the function and style of industrial themed spaces.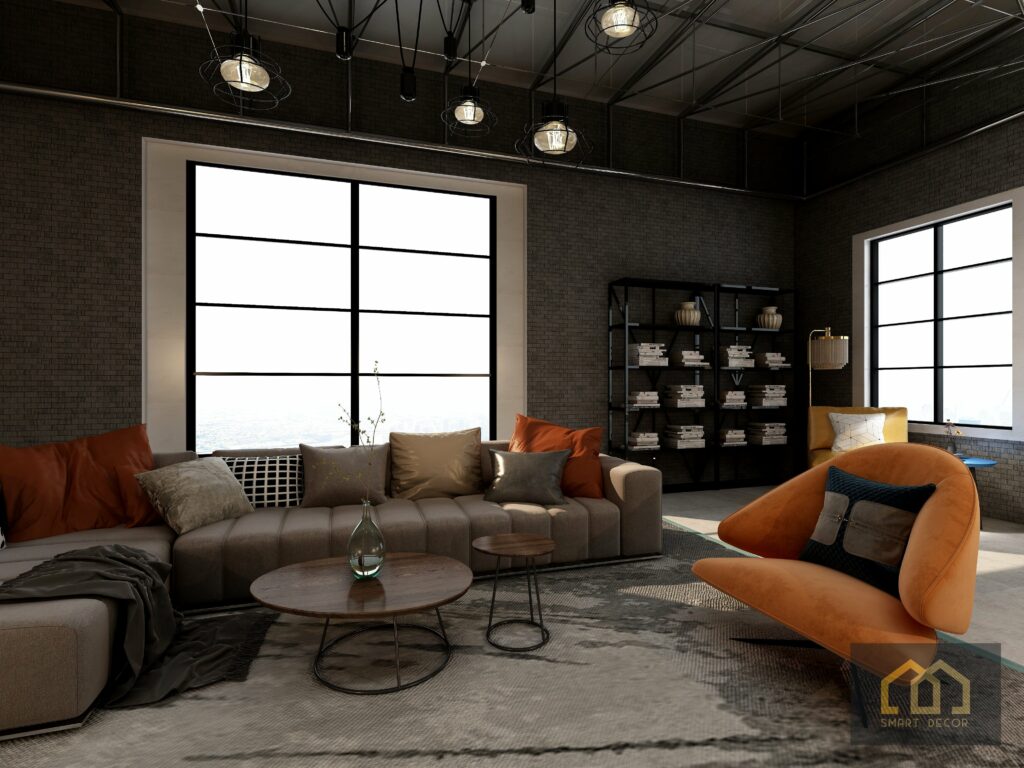 Although minimalist-style is the main characteristic of this trend, there's always room for creating personality. Use contrasting high-gloss metal finishes with rustic or vintage cabinets, countertops and furniture. In this case, we've added a pop of colour for our chosen furniture, providing a striking contrast to the otherwise neutral colour scheme while still ensuring a cohesive overall design.
Also, accent colours are adaptable, they are typically used sparingly; add pops of vibrant colour for a refreshed look.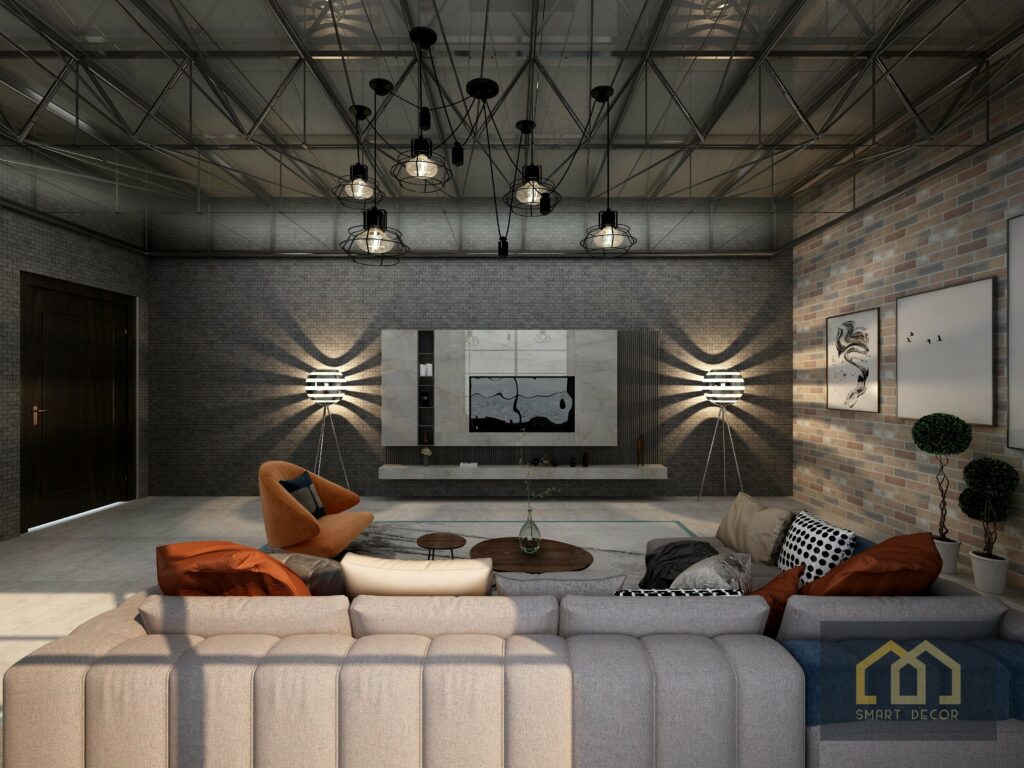 Lighting within any physical space can drastically change the ambience and feel of the room. Hence, we've stayed true to the design elements associated with this trend – with metal finish, hanging ceiling light and carefully selected floor lamps that provide a unique shadow design complimenting the bare-brick neutral scheme. 
Designing Industrial Spaces with Coohom
Coohom is equipped with over 300K render-ready 3D models and textures which means there are definitely many of the discussed elements above ready for you to use. Other than that, its user-friendly interface makes it the software of choice by over 4 million interior designers globally. Why Coohom?
Create 3D models and floor plans easily
Drag and Drop function helps cut designing time tremendously

 

Render 4K quality in just seconds
Collaborate easily between team members as Coohom is a cloud-based software
 Utilise Coohom's construction tool to create an open ceiling concept, perfect for Industrial Design
Want to learn more about how Smart Decor can help you incorporate Coohom in your current business process? Check out our package plans here or reach out to us here.
You are reading this article on Smart Decor Pte Ltd's website. Smart Decor Pte Ltd is the exclusive partner and distributor of Coohom in Southeast Asia. For more info about how Coohom can help your business, click on the following link: