Recently, Coohom has added an interesting Beta feature available to users, called Video Template. This feature is intended to assist the users in creating attractive videos to be showcased as deliverables and also for marketing content. Prior to Video Template, users are able to create video using the Roaming Video feature, which requires the users to customize the camera works and other details. As the name suggests, Video Template gives you a good number of video template options which you can use according to your needs.
Where Can You Find Video Template?
Find the Video Template feature by going into 'Render' in the Design Tool. Then, go to the last tab on top called 'Video Template'.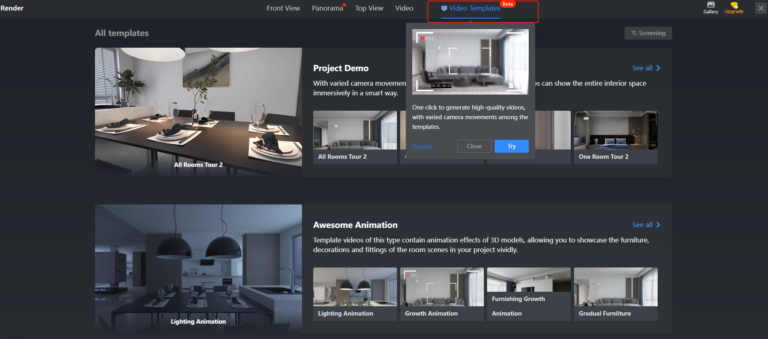 What Template Types Are There?
There are 3 categories of templates available:
Project Demo Templates
Awesome Animation Templates
Product Showcase Templates
Project Demo Templates
This template category is suitable to be used for design project indoor space showcase. For example, the camera movements will show the whole house design, from one room to another room. Camera movements of different templates may vary based on the specific design project.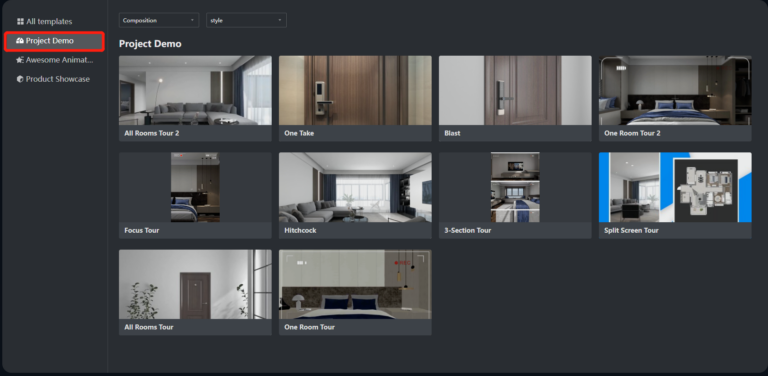 Awesome Animation Templates
This template category comes with animation effects of 3D models, allowing you to vividly showcase the furniture, decorations, and fittings of the room scenes in your project. The template videos include growth animations of 3D models, light switch animations, color temperature animations, and more showing various effects. It is suitable for social media content or showcasing furniture and decors in a room.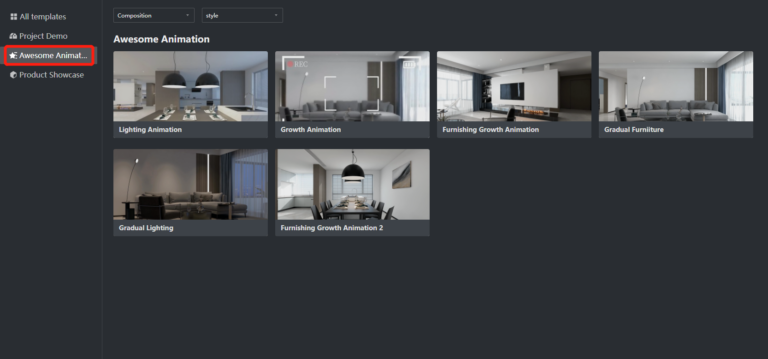 Product Showcase Templates
This template category focuses on product features and their overall effects during the showcase. In these template videos, you can place and showcase a single product, and change it to another item. Usually, these videos are a good fit for creating viral marketing content that sparks consumers' intention to buy. It can also be used for shopping guides or product recommendations.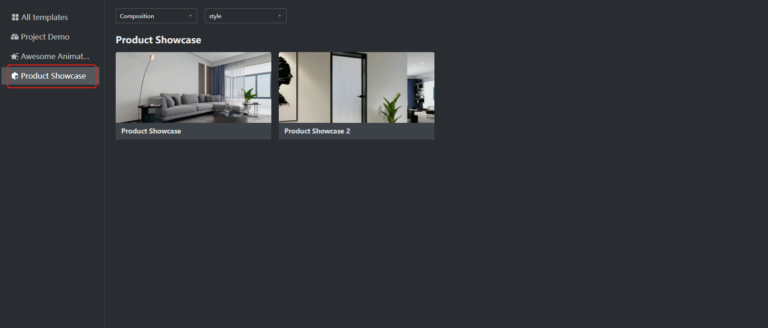 How To Use Coohom Video Template?
Choose the template you want
Choose your preferred Composition (Landscape or Portrait) and Style (Awesome, Creative or Simple)
Click on Make The Same Video to start
Choose the rooms you would like to include in the video
Click on Build A Preview Video or Edit, Then Generate to edit
After editing, select the resolution by clicking Create Video
Click Confirm to generate the video
Once rendering has completed, you can download the video and it's ready for your perusal!
Note:
Currently, some templates can't be rendered as the feature is still being developed.
Excited to Get Started?
Are you interested in making your business grow ahead of others? Looking for an innovative strategy to sell your products? Ready to see your sales performance skyrocketing? Coohom is prepared for you to experience the most effective E-commerce solution, furniture retailing, home décor, interior design, kitchen & bath, and so on, Coohom is your trustworthy partner of striding into the new era of E-commerce! Contact us NOW!
You are reading this article on Smart Decor Pte Ltd's website. Smart Decor Pte Ltd is the exclusive partner and distributor of Coohom in Southeast Asia. For more info about how Coohom can help your business, click on the following link: