Legends Furniture is a US-based manufacturer of home goods that has been in business for over 30 years. Legends manufactures a full line of Home Entertainment, Home Office, and Bedroom furniture while also importing select collections from quality factories in Asia to provide a great range of styles and price points. As a world-class vendor, Legends Furniture has very high standards for the quality of images and customer experience that they offer to their partners.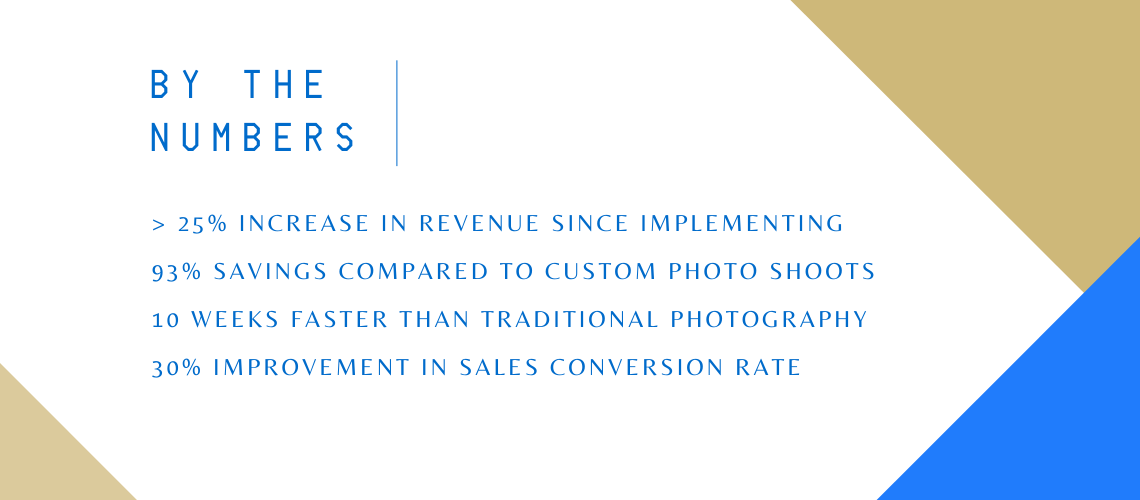 The Challenge: Expensive Conventional Photography and Growing E-Commerce Demand
As the demand for e-commerce has continued to increase year over year, Legends Furniture found itself facing exorbitant traditional photography costs that still did not fulfill their needs for a growing online business.
In order to keep up in the digital age, the need for iterative imaging necessitates the ability to quickly and cost-effectively generate top-quality images. In addition, consumer demands for more technological solutions in the shopping experience have forced companies to reconsider how they approach the furniture buying process.
For Legends Furniture, traditional photography, both outsourced and in-house, had always been the way how they generated images of their products. Digital e-commerce needs, however, meant they needed to experiment with different images and ways to present their products, and this cost was way too expensive. Their in-house photography also lacked the equipment and expertise to meet increased consumer expectations. In their own words, "In a changing world, classical photography is quickly becoming obsolete and the need for 3D models is rapidly increasing."
With a forward thinking team willing to embrace change and adopt innovative solutions, Legends Furniture began looking for a solution. While the Legends team was unfamiliar with what tools could help them solve this business pain point of theirs, they wanted to focus on the future trends of the industry. Legends began to do their research and test several possible solutions to replacing their traditional photography needs while improving their 3D database.
At the Las Vegas Market in 2020, Legends encountered Coohom, a cloud-based 3D product visualization company that enables 4K photo-realistic renders.
The Solution: Coohom's Photo Studio Allows 4K Renders of Photo-Realistic 3D Models
Since 2015, Coohom has helped some of the biggest names in the furniture industry fulfill their 3D product visualization needs. In working with Legends Furniture, Coohom was able to introduce Photo Studio, the perfect tool to replace traditional photography needs.
Coohom's Photo Studio utilizes one of the fastest rendering engines in the industry to generate photo-realistic renderings. These top-notch quality images can be used on websites, brochures, online ads, or anywhere else client products need to be featured.
Legends Furniture's Michael Schmidgall, Head of E-Commerce, described the on-boarding process, "Very smooth. I couldn't imagine working with anybody else. Coohom's pricing is competitive, their team is friendly, and they work with us on anything we might need."
Since implementing Coohom's Photo Studio, Legends Furniture has seen a marked increase in revenue by 25%. Legends also saw a 93% savings in comparison to traditional photo shoots and they are able to get their images 10 weeks faster, with a 30% improvement in sales conversion rates.
Given the success Legends Furniture saw, they eventually transitioned all new products to Coohom and now use the Coohom platform to produce new images while maintaining the ability to give different customers proprietary images.
The success that Legends Furniture has experienced can be yours too. Find out more about Coohom Photo & Video Studio here: https://smartdecordesign.com/photo-video-studio/ or look for other solutions in the links shared at the bottom of this article.
Keywords: Furniture Photography, Furniture Rendering, 3D Model Rendering, Furniture Business, Furniture Manufacturer
You are reading this article on Smart Decor Pte Ltd's website. Smart Decor Pte Ltd is the exclusive partner and distributor of Coohom in Southeast Asia. For more info about how Coohom can help your business, click on the following link: